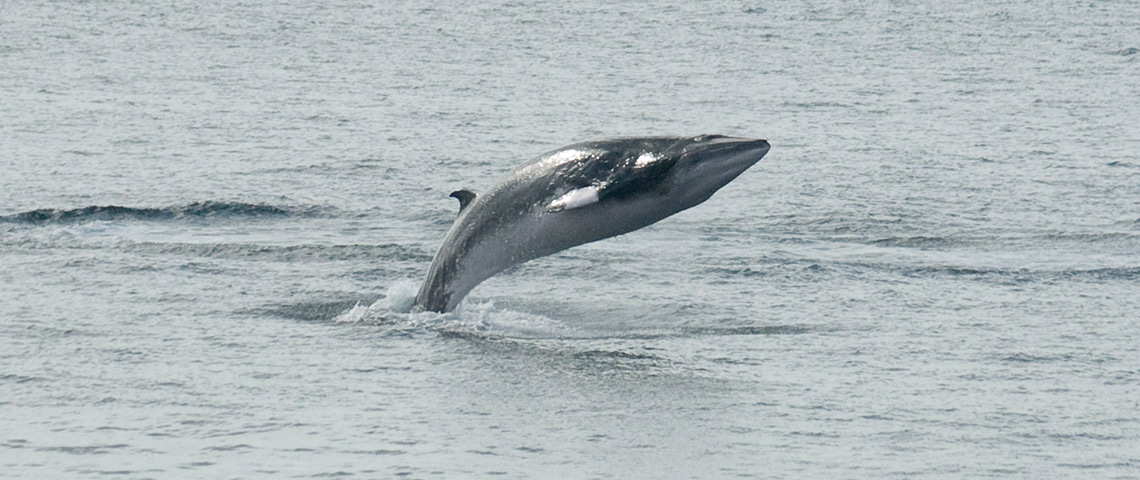 This is the ideal day out for wildlife enthusiasts and natural history lovers. Being out at sea, surrounded by unpolluted aquamarine water, is the ultimate in escapism. It's very hard to worry about the gripes of modern life when the sea is sparkling beneath you and a group of dolphins or porpoises are playing gracefully in the waves around you.
You can easily take a trip out into the deep waters of Ardnamurchan's sea lochs on a chartered boat tasked with helping you to see the majestic marine life that flourishes here. Or, if you're an experienced sailor, you can simply hire a boat from a local marine centre and take the wheel yourself to see what you can find.
Charter a local boat
Not far from Loch Sunart, you can charter a boat, plus her friendly expert Skipper, and venture out into the deep blue open water of the sea lochs and the Atlantic Ocean. Many people visiting this part of the Scottish Highlands opt for a day trip to one of the nearby smaller islands known as the Inner Isles, firm favourites include Muck, Skye and Coll. This way, you get the meet the locals – both on land and at sea – and both the animal and human kind!
Spot wildlife on land and sea
You can spot whales, dolphins, porpoise and also Europe's largest fish, the Basking Shark, on the way to the Inner Isles, as all of these species thrive in the waters here, and then see seals, puffins and sea birds when you disembark, as they make use of the rocky out-crops, shell-sand beaches and sheltered bays to make their homes. If you choose to take a look around an island as part of your day out, a stroll down the white-sand beach or walk along one of the rural footpaths lined with beautiful wild flowers are both offer great opportunities to spot more wildlife.
Having a full day to explore the peninsula helps to really make the most of the day out at sea, but however long your trip, your Skipper's expertise in navigating the local waters and second-to-none local knowledge, plus the state of the art detection equipment on-board, will ensure your journey takes you via the best places to spot your favourite marine life in their natural habitat. When you charter a boat, most Skippers will let you decide the itinerary, offering their advice along the way. They are keen, more than anything else, to give you and your group a great day out at sea.
What to bring on a whale watching trip
The weather can be changeable in this part of the world, so it's always a good idea to bring warm clothes and waterproofs on any whale watching trip. A well-stocked picnic basket with a flask of warm tea or coffee never goes amiss either! If you have binoculars, definitely bring them with you, but the most important bit of kit to remembers is your camera!
Plan your visit
When you stay with us at the Sunart Adventures cottages, all of this is right on your doorstep. When you visit, we can give you personalised advice on all things nautical as we have a qualified seafarer in our team of local experts. He's on hand to offer guidance to help you get the most out of your visit. Taking to the waters of Loch Sunart and the Ardnamurchan peninsula on a wildlife-watching adventure will make memories that can't be made elsewhere.
Find out more about Sunart Adventures self-catering cottages
Top tips for whale watching
Check the local weather forecast - it's best to go when seas are calm.
Pack for a day at sea - it will be a lot cooler on the water than it is on land.
Prepare for motion sickness - take a seasickness tablet before you set sail.
Be patient - wild animals only appear when they're ready.
Wear polarising sunglasses - they reduce glare and reflections from the water's surface.