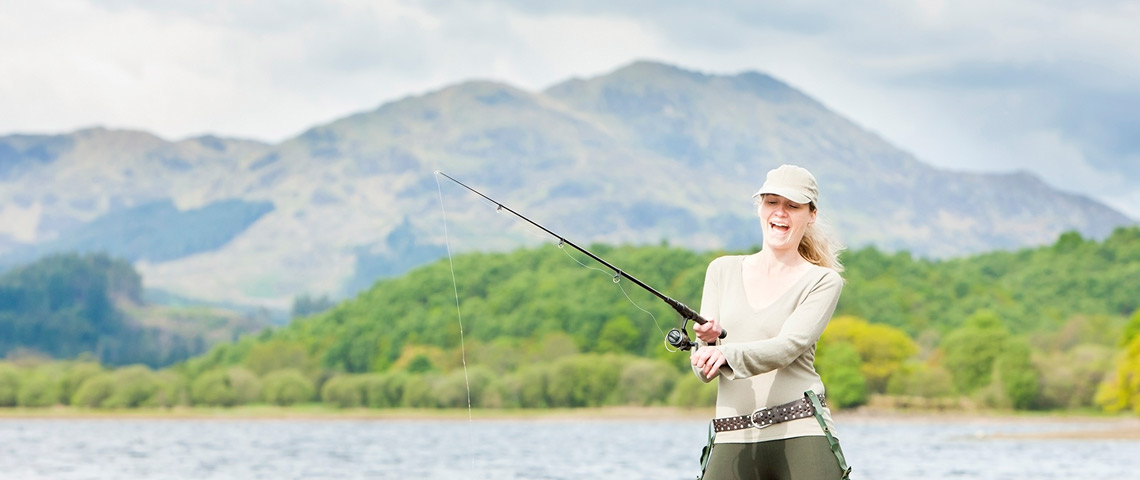 Try your hand at river and loch fishing and catch salmon and trout, or venture out to sea with an expert at the helm and not only experience the stunning landscape from a perspective you just can't replicate on land, see if you can bring back the catch of the day, too!
Fishing in Loch Sunart
There is a wide variety of fishing available in the relatively small area of Ardnamurchan, particularly in the unpolluted waters of Loch Sunart. Adventurous anglers often head out into Loch Sunart's open water to target the deep water fish, but those who have tried shore angling here have found that fish seem to move into the loch's shallower water as darkness falls. The great news is shoreline fishing from the rocks along Loch Sunart is free, so you can spend the day sea fishing and the evening casting your line from the shore.
The clear water of Loch Sunart is a great place for a spot of fishing as it is rich in fish and holds some very large skate, some reaching weights of 185-200 pounds, some of the largest spurdog in Scotland, as well as conger eels and thornback rays.
We can arrange a variety of sea fishing trips for you. All trips can be tailored to suit you, but we'd suggest a two-hour trip along Loch Sunart for first-time anglers and a full day trip to Mull or Staffa for the more seasoned seafarer. Whatever you choose, the trip will always include an experienced Skipper who is an expert on the local waters and on-hand to take you to the best places to fish and offer expert tuition, if required.
River fishing in Ardnamurchan
The rivers and lochs that make up the peninsula are all rich with fish, but be sure you have permission to fish there before you cast your line as, in some areas, you will need to a get permit before you can start fishing.
River Gour and Loch nan Godbhar
You will need to get a permit to fish in River Four and Loch nan Godbhar. A day license costs £25 and can be purchased from Ardgour Stores, where you can also hire fishing rods and pick up all the essential fishing equipment.
Or arrange your permit via email by contacting: ewen@ardgourestate.co.uk.
River Strontian, River Polloch and Loch Doilet
The Strontian Angling Association and Sunart Community Company take joint responsibility for the fishing rights on the River Strontian, River Polloch and Loch Doilet, where you can fish for salmon, sea trout and brown trout.
All four of these locations have accessible pools and beautiful backdrops that you can enjoy during the fishing season, which runs from 1st May – 30th September. They all operate a catch and release policy and ask that you please only use barbless hooks.
or the River Strontian and River Polloch, you can purchase one day or week-long permit that allows you to fish in both rivers for £20 and £50 respectively. To fish at Loch Doilet, you need a slightly different permit that also covers bringing a boat onto the loch and that costs £30 for one day or £75 for the week.
These permits can be purchased from Strontian Village Shop or you can contact Mr Peter Madden from the Sunart Community Company on: 01967 402265.
River Shiel and Loch Shiel
Another lovely location on the Ardnamurchan peninsula is River Shiel and Loch Shiel. Loch Shiel is a large, deep loch that connects the steep hills of Glenfinnan to the north with the flat marshes of Acharacle to the south. The loch's only outflow is the River Shiel, which drains the loch at its south-western side.
There is no shore fishing allowed on Loch Shiel, but there are plenty of places nearby where you can hire a boat. If you prefer bank fishing, River Shiel is a great place to catch salmon and brown trout as well as eels, brook, river lamprey, flounder and stickleback. The 4km stretch of river is let by arrangement on a weekly basis, so you could have it all to yourself when you visit.
Fishing permits can be purchased from the Loch Shiel Hotel at Acharacle, or via email by contacting: post@lochshiel.co.uk.
Stay on the shores on Loch Sunart
If you're keen on taking a fishing trip on Loch Sunart, we can offer luxury self catering accommodation right on the shoreline. Our cottages are nestled in a secluded spot and each cottage has been designed for convenience and comfort. We offer all the home comforts, plus a few extra special touches, to make your experience of Loch Sunart personal.
Find out more about Sunart Adventures self catering cottages
Top tips for fishing
Pack your bag the day before - don't rush in the morning and forget something.
Wear layers - weather can be unpredictable, so be prepared and check the local forecast.
Sharpen your hooks - dull hooks lead to lost fish.
Don't use a Stringer - use a Fish Basket, Keep Net or Live-Well instead.
Fish in the early morning or evening - fish are more likely to bite.